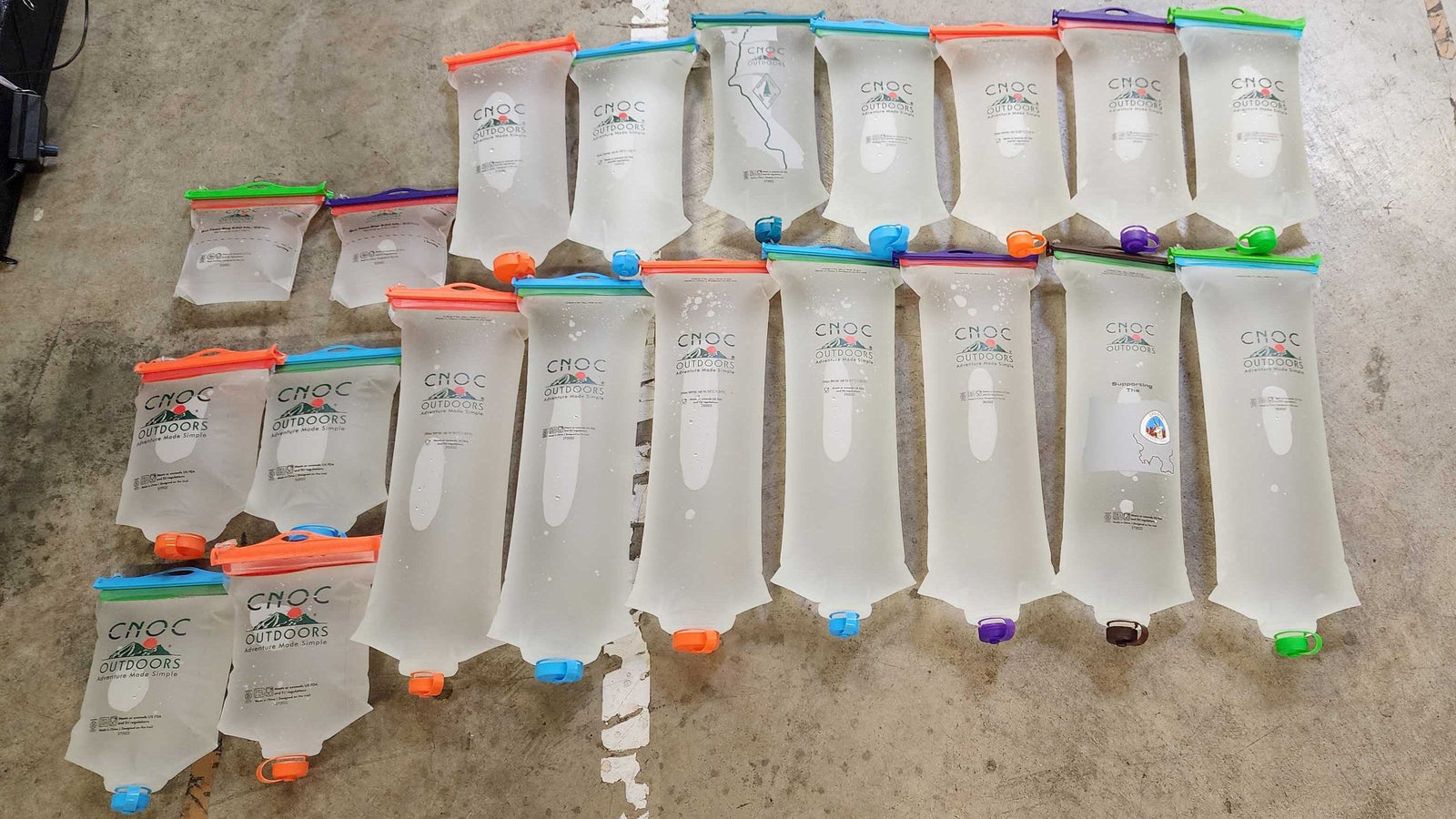 Given that we are a six year old company, every year of Cnoc's existence has included quite a bit of growth and change and 2022 was no exception. Before we look into the new year, we wanted to give y'all a recap of everything we accomplished in 2022.
New Products: 
We released a whole lotta new stuff in 2022! Here's the full list, in no particular order.
Vecto 1 Liter: While the first Vecto prototype was actually a 1 liter, it was ultimately decided that a 2 liter was the best one size fits all approach when Cnoc was too small to create and sell multiple sizes of Vecto. The 3 liter came next, along with requests for a 1 liter. We finally got our ducks in a row and now the Vecto comes in 1, 2, and 3 liter carrying sizes.
VectoX: All backpacking gear has to take three things into consideration: durability, cost, and weight - everything has to exist somewhere in that triangle of disparate points. Like capacity size, we designed the original Vecto to be in a point in that triangle we hoped would work for the most amount of people. As we've grown larger, we now have the ability to give folks more choices on that front - in comes the VectoX. We designed the more durable VectoX for thru-hikers, rugged adventures, and folks that are just hard on their gear.
The Collaboration Collection: We recognize that our existence as a company is totally beholden to the organizations that caretake the trails y'all use our products on and consequently, try to give back to those organizations as much as humanly possible. We worked with three organizations that are very near and dear to us out here in the Pacific Northwest to create beautifully designed Vectos and Vesicas that would give a little back to the organization decorating it with every product purchased. 
Collaborations with CTUG and Hilltop Packs: We worked with two other gear companies to create product partners to your Cnoc favorites. With CTUG, we created a Vesica friendly version of their water bottle sleeve, so folks can attach their Vesica to the front of their pack for easy access. With the help of Hilltop Packs, we now carry a dry bag perfectly sized to store your wet filter in when it needs to stay tucked in your sleeping bag in freezing conditions - or just whatever else you'd like to use it for.
Product Updates:
Our biggest product update came with the Buc - customer feedback and our own product testing convinced us the original Buc was bigger than it needed to be. We wanted folks to be able to reach the bottom of it with a long handled spoon and with the new version of the Buc, they can! We also updated the neck welding technique used on all our Vectos to sturdy up the most delicate part of Vecto anatomy. 
Staff Updates:
In probably the biggest change of 2022, Cnoc got a lot of new staff over the course of 2022. Head fabricator Adrian started in May of this year, followed by Logistics and Impact Manager Kyle in July, and Marketing and Customer Experience Manager Becky in August. 
Trail Work: 
The Cnoc staff put in 192.5 cumulative hours of trail work in 2022 - a number to be proud of certainly, but we're very optimistic we can beat that in 2023. We started scouting and working on our newly adopted section of the PCT. Half of us got certified to use chainsaws on forest service land, which will make logging out our PCT section easier. All of us got more experience with every aspect of trail work and logistics and impact manager Kyle started work to become a trail crew leader, giving us the opportunity to be our own self sufficient trail work team. 
Looking Forward:
2023 is already shaping up to have the most evolution of any year of our existence so far - in fact, in a few months we're going to be undertaking our biggest change (and challenge!) since the Vecto was first released! Follow us on social and subscribe to our newsletter to keep up with all the changes Cnoc will undergo in 2023 - it's going to be a big year over here, get ready.
---
2 comments
---
---