Making an Impact - Our DEI Journey Begins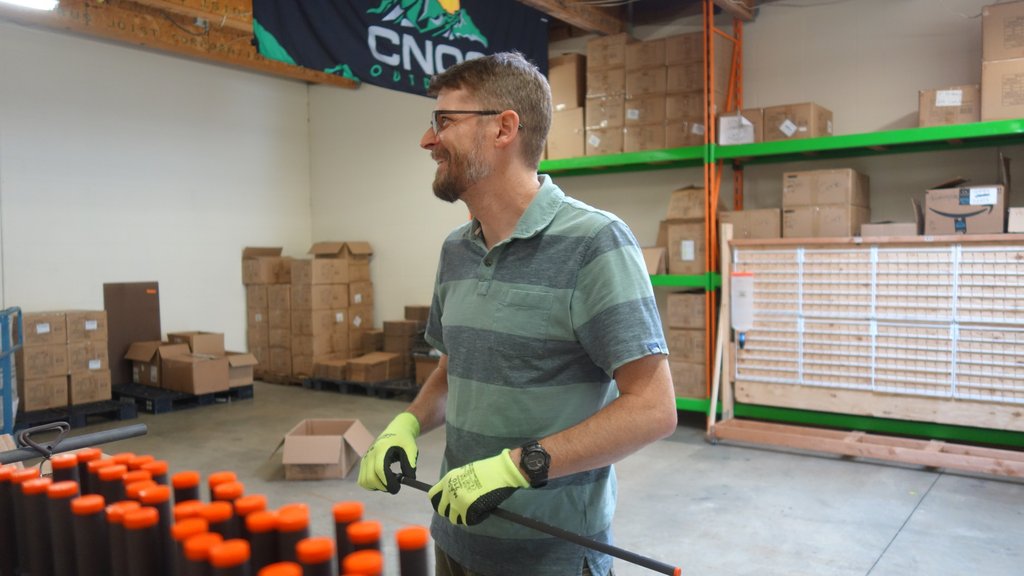 Greetings, my name is Nathan, I'm the newest member of the Cnoc Outdoors team, and I'm pretty excited to be part of this small but mighty company. My official role is Impact and Outreach Manager, which means I'll be focusing on the environmental, ethical and social impacts of the company, and supporting our outreach efforts. And, since Cnoc Outdoors is small and scrappy, I also help pack orders, build trekking poles (they are nearly ready to ship, and they are going to be awesome), clean the bathroom, write blog posts, and water the plants.
I first met Gilad when I bought my first Vecto last year. Cnoc Outdoors office is along the bike route my son and I take on the way to his school, so I stopped in one day to say hi and buy some stuff. At that time, I was a stay at home dad and had a few hours free during the day, so I reached out to Gilad to see if he needed any help in the warehouse. This was around the same time that Cnoc Outdoors ran the Kickstarter campaign for the trekking poles, so there was a lot of work to do.
After a few more conversations, Gilad shared some thoughts and ideas he'd had for a while, but didn't have the time to focus on himself. Those included ensuring that Cnoc Outdoors was doing its best to Leave No Trace. I started volunteering a few hours a week with Cnoc in January 2020, and became a formal employee at the end of April. Some of the projects I've been working on include securing B Corp certification for Cnoc Outdoors - which I hope we will finalize by the end of this year - and establishing recycling procedures for faulty and damaged Vecto's we have in our warehouse.
Another initiative that we will be working on over the next few months is around Diversity, Equity and Inclusion. Cnoc Outdoors has always been an advocate for equity and inclusion for all people in the outdoors. We have often put our money where our values are by supporting under-represented groups in the outdoor community, and by donating money to advocacy initiatives. However, we aren't satisfied yet, nor do we feel like we've done enough. Over the next few months, Cnoc Outdoors will be taking time to reflect, learn, grow, mess up, ask questions and listen. We want to become a better company and to do that, we need to better embrace, understand and advocate for DEI internally and within the outdoor community. As a micro company of only 4 people, we obviously don't have the answers (or resources to do everything ourselves), and will actively look for input from our customers and the wider outdoor community. We are open to feedback, thoughts, criticism, support, suggestions, and advice. Please feel free to reach out to us - we are truly listening and eager to learn and grow.
We plan to post blogs sharing the journey we are taking to keep you informed of our process and to seek your feedback. We want to be open and transparent, which may expose us and show our mistakes, but we feel that is the best way to learn. We hope you will join us and become part of the journey.
---