Behind The Curtain Of The CNOC Outdoors Team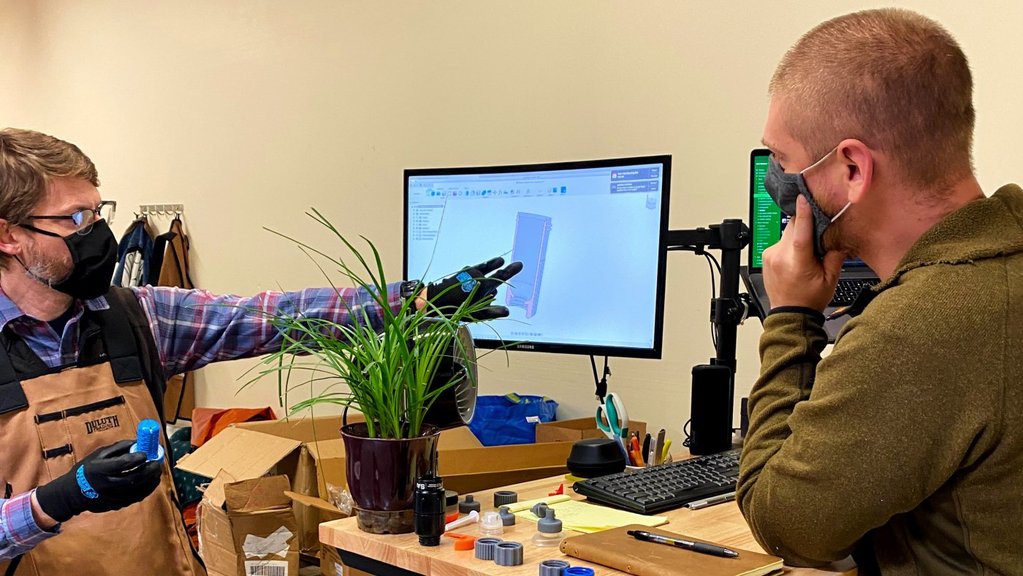 This is the first post in our Employee Spotlights blog series where each of us in the CNOC team shares something about ourselves. We're starting with Gilad, Founder and General Manager. 
Running a small business is not simple, as you have probably heard or know personally. There is no manual, no instruction book or even a general guideline. Every business is amazingly unique, even compared to a very similar business in the same industry. Despite how it might seem, small business owners spend most of their time just winging it, making it up as we go and hoping that we made the right choice in any given situation. Sometimes it works, sometimes it closes the business.
One of the key parts of any business, especially a small one, is people - the humans that take part in making the business tick and run. As a business owner of a small business, you very quickly start seeing your team as an extension of your family. After all, they work with on your baby. This can lead to all kind of odd situations and it is very hard to keep a healthy balance, finding what is right for the business and what is right for the people.
I never really set out to be a business owner, have a team, and be so involved. I started my young adulthood hoping to be in politics, or alternatively to just find a way to enjoy the outdoor industry. My dream involved just being part of a big brand that makes lots of money and a big range of gear. The right sequence of events led me to be a business owner, and when the time was right, also an employer.
Though unintended, being an employer is one of the things I value and cherish the most, as it is such an important part of CNOC. I was always drawn to managing and leading people, from my days in the Bnei HaMoshavim youth organization to my political aspirations to the fact that at every place I worked, I somehow ended up managing a team. So when the time came to hire people, manage them and offer them a livelihood, I was emotionally ready and focused on making working at CNOC a truly amazing thing.
I have a core concept that drives how people are treated as part of the company: I try to offer everything I would like to see in a company (as an employee or even just a customer). I know it sounds simple and almost trivial, and it usually clashes with "good business sense," but I still value my team more than the bottom line.
Here are my key principles around the people at CNOC:
Transparency
It seems that every company around the globe nowadays claims to be transparent, but that can require being almost brutal at times and many places seem to shy away from that. At CNOC, we have a very flat pay structure that everyone knows about. This means that every employee can easily know how much each of the other employees make.
Transparency doesn't end in pay; it is also about the things we are often embarrassed about as business owners: our mistakes, where we messed up and when we almost cause a closure of the company. I see everyone in the company as a stake holder, so they get a weekly update from me about the state of the company: how much we made, are we profitable, which products do well and what hurdles we have. 
Having the team know everything about the company and what makes us stronger or bogs us down, means that we are all more knowledgeable. That means I can offer everyone the best tools to hopefully do the best work possible in their job.
Involvement
Many of the decisions in the company are made at group discussions, and everyone has a say. This allows us (and especially me) to make decisions for the company that are truly informed and well vetted. We have a diverse team from a range of backgrounds, and having everyone's input leads to better decisions and more exciting ideas.
Many times I'll involve more people because they know better than me; I hired them to tell me how to do things better. And not only everyone can be a part of everything, I encourage every single member of the team to try and take part in a role that "isn't theirs", this gives diversity in what we do and allows us all to develop.
What I like the most about involving everyone is that it stops me from making mistakes. The single business owner is a very limited role. We are bound by what we know and what we are, and in having my team have a greater say, I get to benefit from their knowledge, experience and perspective.
When we share any public comments, especially around more sensitive topics that relate to our values and beliefs, they are not being shared without a full team consensus. This makes sure that the company's public voice is the voice of the entire team, not just the controllers of the public outputs.
Empowerment
Being a manager is tricky and most people take it as the dry definition of "a person in charge", but for me that is not enough. In my perspective, a manager is first and foremost a facilitator of their team: a person who is responsible for giving everyone in their team the best terms and conditions to do their best in their position.
What this means for me is that managing CNOC is not just about balancing the finances, increasing growth and pushing for results, but also to make sure that my team is happy, that they have all they need to be whatever they can in the company. If they need tools, money, support, encouragement or just a break, when my team is happy I know they will do a great job.
Once my team is happy I can also give them the platform to be the leader in their respective area. We are a small team and we each "manage" the rest of the team in our relevant department:
When we have a marketing project coming up, it is not for me to manage, it is for me to listen to Christy (Marketing Manager) as she leads us to where we need to go. 
In tackling our B-Corp certificate, the expert is Nathan (our Impact Manager), not me, and when he needs me to review things, he is my manager and I answer to him.
When we need to move a warehouse, the plan sits in Devan's hands and he will give the list of things I (and everyone else) have to do in this effort.
Recently we made a decision to monitor our poles more closely to ensure our new QC process works and Devo's instructions were to limit poles to the USA for the next few months, until he is satisfied with the feedback.
By allowing everyone in the team to be the authority and manager in their respective area of expertise, it means we all get better results and feel fulfilled.
Collaboration
One of the ways that I make sure to have capacity to do my part in the company is by not micro-managing. We are a small team, everyone is an expert in their area, and everyone gets the space to do their job independently.
When someone has a project idea, most times it won't start with me, it will be a conversation between the matter experts: Emily (customer engagement) and Christy (marketing) will look at our email flows. Devan (logistics) and Nathan (impact) will explore our shipping footprint and will probably have a solution before they even loop me in.
By encouraging everyone in the team to be an expert and encouraging them to work with everyone else, we are removing the most common bottleneck: "the manager". Ideas and projects don't get stuck with me in order to move forward.
Mutual goal
By being transparent, making sure everyone is involved, empowering the team and increasing collaborations, everyone feels that this company is theirs, which is a key for a successful team. 
Using revenue sharing as part of the compensation structure, giving employees a full understanding of the company's finances and allowing employees autonomy in their area means that we all are informed, motivated and committed. We understand where we are, where we are heading and how we are going to make this work, together.
Fair treatment
Probably the most important aspect for me in running CNOC is treating everyone fairly. Yes, CNOC is a commercial company that needs to make money, but it doesn't mean that goal comes before everything else. The well being, happiness and fulfillment of the team is just as important.
Making sure that everyone has all the gear we make (for free, not provided at a "discount") is key, because if the people who make the company don't have the gear, then what is the point of it? Making sure that we offer 401ks, even as a small company, is important, because I want to ensure my team's stable future. We run an unlimited paid time off so when something comes up (illness, broken water heater or just a deep need for 5 day backpacking trip), it is possible to do so.
Mika (my wife and co-founder) and I try and make sure we are intentional in any decision and policy we create, building an extension of our family with the team.
It is also how we design and create products, with fair treatment to our supply chain and the environment from the design. Making sure that we have an Impact and Outreach manager before Marketing was not accidental, we need to inspect how we do things and improve as much as we need to sell. Thinking ahead for when we can afford to have a circular supply chain, being able to recycle our own products and help further in reducing our impact - these are all things that are extremely important to me. 
CNOC as a tool for good
Last is the understanding that CNOC is not just a company to make money and let me retire on a beach, it is a tool for good. Since the start of the company I knew that just making money is not enough, this money needs to be used well. Whether it is donating to the right causes, helping us (hikers and outdoors enthusiasts) have the right tools to reduce our impact, supporting positive organizations and more.
Commercial success is not enough for me, I'd like to leave behind a better world for the next generations, and if I can use CNOC to do so along with a great team, I intend to do so.
---
1 comment
---
---